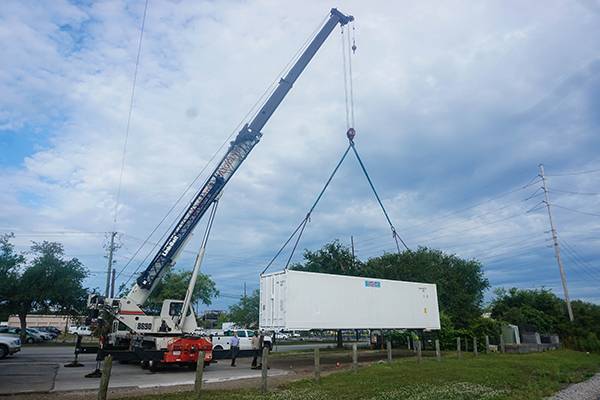 We're excited to report that truckloads of blueberry cases and peach baskets are hitting the warehouse daily. This is vastly different from last year—a very warm January and February prompted early blooms on fruit trees in South Carolina, and a late frost in March wiped out the blueberry and peach crop. Hugh Weathers, South Carolina's Commissioner of Agriculture, reported crop losses upward of 80 percent.
Thankfully, farmers are incredibly resilient, and although it will take many years to recoup last year's losses, this season's bumper crop* sped up our need to create more cooling space at 990 Morrison Drive. A group of generous supporters just helped us add a refrigerated shipping container or 'reefer' to our property. Spanning 40 feet, the reefer provides an additional 400 square feet of temperature-controlled space to keep tasty, local inventory fresh for our community. We are grateful for the opportunity to keep growing—so our farmers can keep growing, too!
*A large harvest especially when compared to years past
South Carolina farms' federal help could be in jeopardy
As drafts of the national Farm Bill move through Congress, U.S. farmers are anxiously watching changes to the legislation. Small, locally-focused producers and businesses, including GrowFood Carolina and partners like City Roots and Swamp Rabbit Café and Grocery, rely on federal support allocated through the Farm Bill.
Right now, Congress is considering drastically cutting funds for a primary source of support, the Value Added Producer Grants program. The program helps family farmers grow and diversify their businesses. Want to speak up for South Carolina producers and this critical program? Email your U.S. Senator or Representative here.
| | |
| --- | --- |
| | @growfoodcarolina: Freaked out about E. coli, well romaine calm, we've got you covered! Buying local guarantees that you know where your lettuce is grown. If any outbreaks or issues crop up, single source identification finds the root cause quickly and helps avoid mass outbreaks with a smaller distribution radii. Know your farmer, know your food. Buy local and support your local farms! #wemakelocaleasy #eatlocalchs #romainecalm #lettuceeat |
life raft treats' Buttermilk-Blueberry Ice Cream
Beat the heat with this sweet from Life Raft Treats! Charleston chefs Cynthia Wong (of James Beard Award nomination fame) and Mary Oster share their recipe for Buttermilk-Blueberry Ice Cream, complete with a blueberry swirl crafted using Lowcountry Creamery buttermilk and Black Pearl organic blueberries. Click over to our blog to scoop up the full ingredient list and recipe steps.
"Do we really want to travel in hermetically sealed popemobiles through the rural provinces of France, Mexico and the Far East, eating only in Hard Rock Cafes and McDonalds? Or do we want to eat without fear, tearing into the local stew, the humble taqueria's mystery meat, the sincerely offered gift of a lightly grilled fish head? I know what I want. I want it all. I want to try everything once." -Anthony Bourdain
---
Contact Us