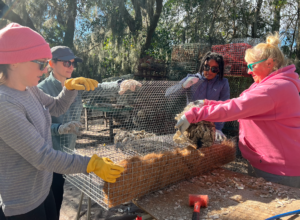 Come volunteer to help strengthen our local oyster populations and our waterways! The Sustainability Institute's Environmental Conservation Corps AmeriCorps members are teaming up with the SCDNR SCORE program, to restore the oyster reefs that define our local salt marshes.
Oyster reefs provide a multitude of benefits to the Lowcountry such as creating habitat for juvenile fish and invertebrates, filtering and cleaning water before it enters the Atlantic Ocean, and acting as a buffer in storm surges. We restore our local oyster population by using oyster shells collected from nearby restaurants and SCDNR recycling drop sites to build the hard substrate oyster reefs that spat (baby oysters) need in order to survive.
During the manufactured wire reef (MWR) fabrication, you will have the exciting opportunity to use both manual and power tools to bend and fasten metal cages containing oyster shells and coconut fiber. These MWRs will later be placed out in the harbor creating a reef-like structure where spat will accumulate upon them and restore our essential marsh habitat. No prior experience necessary to volunteer.
What to bring:
– Closed toe shoes
– Water bottle to refill
– Appropriate clothes for that day's weather
RSVP